Users may need to set up multiple IP addresses to the same network adapter for hosting various SSL sites and avoid firewalls or being blacklisted in SPAM filters, etc.
Method 1
Please follow the below steps to configure multiple IP addresses in the Windows server.
Right-click the network icon in the taskbar and click on open network and Internet settings.
Click on Ethernet option then select the change adaptor options that are mentioned in the below image.
Now right click on the Ethernet. and select the Properties.
Select Internet protocol version 4 (TCP/IPV4) in the list and press the properties.
Select the option "Use the following IP address and manually add IP address, Subnet mask and Default gateway, and also add Preferred DNS server and Alternate DNS server.
Now click on the Advanced option that is shown in the below image to add the additional IP address.
Click Add button to add another IP address.
Add the information of the additional IP address and press Add button that is shown below.
You can use the button Add again if need to add more IP addresses and then press OK when all IPs have been added.
Click on OK again that shown in the below image.
Now click on close.
In this way you can add a bunch of IP addresses to a single Network Interface card (NIC).
Method 2
You can also add a second IP alias to a network interface using the NetIPAddress PowerShell cmdlets (this cmdlet appeared in PowerShell version in Windows 2012 / Windows 8.)
Display the list of available interfaces:
Get-NetIPAddress | ft IPAddress, InterfaceAlias, SkipAsSource

IPAddress InterfaceAlias SkipAsSource<
--------- -------------- ------------
172.23.53.241 vEthernet False
192.168.1.90 Ethernet0 False
127.0.0.1 Loopback Pseudo-Interface 1 False
To add an additional IP address for the Ethernet0 NIC, run this command:
New-NetIPAddress –IPAddress 192.168.1.92 –PrefixLength 24 –InterfaceAlias "Ethernet0" –SkipAsSource $True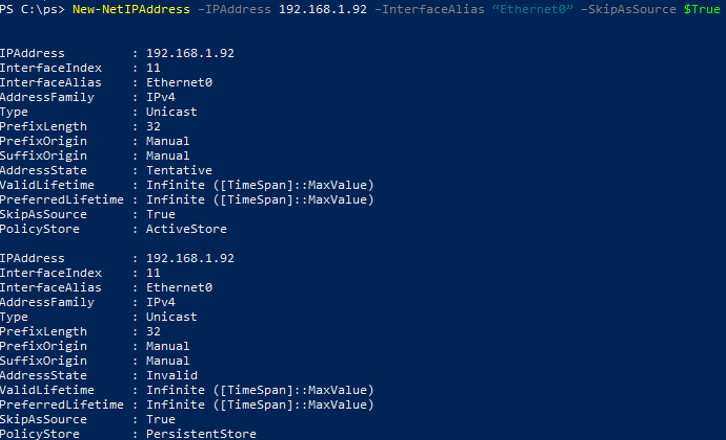 IPAddress : 192.168.1.92
InterfaceIndex : 11
InterfaceAlias : Ethernet0
AddressFamily : IPv4
Type : Unicast
PrefixLength : 24
PrefixOrigin : Manual
SuffixOrigin : Manual
AddressState : Tentative
ValidLifetime : Infinite ([TimeSpan]::MaxValue)
PreferredLifetime : Infinite ([TimeSpan]::MaxValue)
SkipAsSource : True
PolicyStore : ActiveStore
To modify SkipAsSource parameter and allow the outgoing traffic from this IP address of the network interface, use this command:
Get-NetIPAddress 192.168.1.92 | Set-NetIPAddress -SkipAsSource $False