Google has been the pioneer in empowering technology from the very beginning. At Present, Google is not just a search engine. It's an organization that helps and provides all the services that a person needs online. It's made a big impact on the world. Today, people's lives are enriched with the services Google provides and Google Site Kit is one of them.
If you have a WordPress Website or want to build one in the recent upcoming times, then Goggle is here to help you get sorted! Google has benefited the WordPress Webmasters by developing a Site kit to have an overall analysis on the go! For further ado, let us dig into the agenda right away!
Table of Content
How to Set Up the Google Site Kit WordPress
The Things You Need to Know before Setting up the Kit
Set up the kit step by step
How to Use the Google Site Kit WordPress Plugin
Configuring the Kit
Configure Analytics, AdSense &Page Speed Insight
User Guide to the Kit
Google services
How to monitor an individual post or page
Turning Down the Curtains
How to Set Up the Google Site Kit WordPress
Google Site Kit is a WordPress Plugin that has been developed by Google Inc. in order to help you see how people find and use your website. It's basically the analysis and data wizard for your WordPress Website.
Before setting up Site Kit on your website, you need to know what exactly the plugin is.
Site Kit enables you to get an in-depth preview of the possible data that you can have on the website by using critical Google tools. The sole purpose of this plugin to provide you some important data and analysis so that use those to develop your website's structure and elevation for better functionality and productivity.
So if you are having low productivity or reach from your website you need the Site Kit to make an analysis for improving.
The Things You Need to Know before Setting up the Kit
The Critical Google tools which I have mentioned before are a set of tools that are also developed by Google Inc. which basically analyses your website's data and present to you as a full review. These are also known as Google's online marketing services.
Some of the most popular tools are:
Search Console: Search Console enables you to see the indexing status of your website and can optimize the visibility of your website.
Google Analytics: This particular tool helps you to monitor all of your website's traffic in a simplistic and productive manner.
PageSpeed Insights: This little dude can save you and your website for sure. It calculates the loading time of your website on different devices and identifies the flaws and failures of loading. You can use this data to improve your website's efficiency.
Google AdSense: This is a program that enables marketers to generate ads on their websites and blogs. Ads mean publicity, publicity means more visitors.
Google Tag Manager: It is a tool that works like a bridge between your business and your website's development. It allows you to initiate all of the most critical tags for your needs.
Site kits allow you to access all these important tools all at once, like a one-stop solution. It is basically Walmart for your website's needs to make it more efficient and productive. Smooth and easy to access interface has taken ta kit to a whole new level. Now when you have known all the prerequisites of the Kit let-s move on to the Set-Up part.
Set up the kit step by step
You are gonna install a blockbuster program, a show stopper, a savior for your website. For a hero like this, it is obvious that you need to worthy right?
In this case, NO! Setting Up the damn kit is just as easy as it can get. With a few clicks and sign-ins, your plugin is good to go. I am gonna demonstrate the whole process step by step. So have some patience and go through all the steps with me.
Step 01: It is obvious that you are familiar with your WordPress website's Dashboard. Then you can easily find the "Plugins" button on the left toolbar. When you click the button, you will enter the Plugins section where you will be able to see tons of plugins which are available in the section, select 'Add New'. Go to the 'Search Bar' and type 'Google Site Kit' and press Enter.
In the search results you will find 'Site Kit by Google'.
Step 02: When you have found the 'Site Kit by Google' click 'Install Now'. The installation procedure will start afterward and you will be congratulated because the Site Kit plugin is now activated.
Step 03: Now, a button will pop up in blue and it says 'START SETUP'. Click the button to start configuring your plugin. You just need to configure the Kit according to your needs. Congrats folks! Your set up is complete. Now you can start using your kit.
Important Note: Before starting the configuration, you will have to learn about all the prerequisites and the Google Online Marketing Service tools for more precise and efficient outcomes.
Learn about How To Optimize WordPress Website Speed.
How to Use the Google Site Kit WordPress Plugin?
If you are reading this then you have successfully installed and set up the kit for your WordPress website. Just for a quick reminder, Site Kit by Google allows a webmaster to be able to see all the important data and analysis generated from the website in a clear and simplistic overview. This data is very useful which allows you to improve your website and achieve much more productivity and accessibility.
Configuring the Kit
I am describing the configuring part step by step as well. Please go through the procedures with patience and concentration.
Step 01: When you have clicked the 'START SETUP' button in the previous button an individual tab will open which will load the Google Site Kit configuration page. Click Sign in with Google to proceed.
Important Note: You will have to generate Search Console and Google Analytics beforehand. Don't get jumbled lads, it's super easy and just needs a few clicks. You will have to link your Google Account with the tools as well. We will be using the Same Google Account to sign in to our kit. It will allow us to link the information from the tools with the plugin.
Step 02: When you have clicked sign in with Goggle, it will ask for a Goggle account to sign in. Use the same Google account which is linked with the Search Console and Google Analytics. It will allow you to compile the data generated from the tools and display it inside the plugin.
Step 03: When you have agreed to sign in, then you will be notified with the accesses you will have to give the kit and will be asking your permission to initiate it. Click 'Allow'.
Step 04: After clicking allow you have given access to the Kit and the Configuration is now complete. A window will pop up and it will be saying that:
You are a verified webmaster of your website.
You have connected your site's domain with your Search Console data.
You have granted the Kit to extract all the data from the tools linked to your Google account.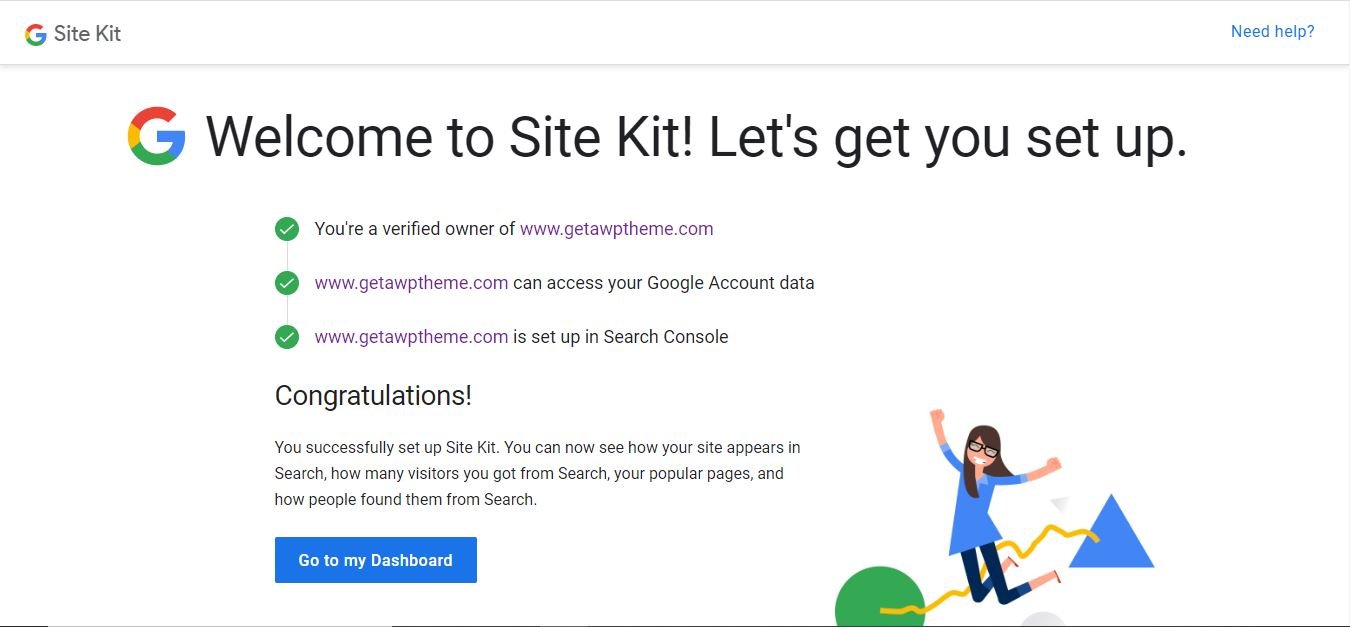 You have successfully finished the Configuration procedure and Google Site Kit has been added to your dashboard. When you return to your dashboard you will be able to see 'Site Kit' on the left ribbon.
Configure Analytics, AdSense & Page Speed Insight
You have successfully configured your Google Site Kit and all is left to do is to add the other Goggle's Online Marketing tools which are Analytics, AdSense and Page Speed Insight.
Configuring Analytics: In this segment I will be instructing how to add Google Analytics with the Google Site Kit. Click the "Connect Service" button displayed just below the Analytics button in the plugin dashboard. When you have clicked the button it will redirect you to a sign in option. Sign in with the same Google account we have used in the last step.
After that you will be notified with the access notifications which you will have to allow for Analytics. Click 'Allow'. It will link you Google Analytics with your Google Site Kit.
For Configuring AdSense and PageSpeed Insights follow the same procedures. It will add the tools to your plugin as well.
User Guide to the Kit
Google has made a show stopper for the data management and compilation unit of a WordPress Website. Using this plugin one can easily monitor the data and information which is produced by the site.
Search Console, Analytics, AdSense and PageSpeed Insights are the tools which will show the webmaster all the required information which can be monitored and used to find out ways of developing the site.
When you open the plugin you will be seeing the Site Overview. All Traffic, Search funnel, Popularity and Speed will be displayed on the screen.
Google Analytics will be generating the All Traffic section which will display the amount of people who have found your site directly, organically or by using some reference.
Search Console will show the Search Funnel where you will get to know about how your site shows up according to Google search results. Impression, Clicks and Unique Visitors from Search will be closely monitored.
Popularity is another sub-section which is also generated by the Search Console. I will show the links of your pages which are popular among visitors. You can search and view the data of an individual page or post information by inserting the link in the bellow section. We will be discussing about this later in the article.
PageSpeed Insights calculated the speed of your website's loading time in different devices. Speed section shows the said information for Mobile and Desktop.
Google services
You can also add other Google services to your kit. It is simple to add and it will give you more insights to your website. As of the Year 2020, Google Site Kit support six Google Services which are given as follows:
Google Search Console
Google Analytics
Google AdSense
Google PageSpeed Insights
Google Optimize
Google Tag Manager
You will be able to find 'Settings' in the dashboard. To connect the remaining Goggle Services Click on the 'Connect more Services' and select the desired Service. The adding procedure is exactly the same as we have done before.
Additional Options: In the 'Settings' Window you will be able to see three tabs. The tabs are:
Connected Services
Connect More Services
Admin Settings
Connected services tab will show you the services which you have connected with the plugin. Connect more Services will show you the services which you can connect. The admin Settings will be showing you the Kit plugin's status and will be giving you the ability to reset the plugin's settings.
How to monitor an individual post or page
If you want to see all the data of a particular page or post form your website, then you will have to copy the link and past in on the 'Search for individual page or post information' box and click 'VIEW DATA".
The dashboard will open a new window which will be displaying all the data of that particular page or post. You will be able to see all the insights and information extracted by the Google Services which you have connected with your kit.
Turning Down the Curtains
Google has been making our lives much more technical and efficient day by day. The main goal of this services is to make the website much more efficient. You are a hard worker, you have been investing your time, labor, talent and all the skillsets to your website.
With a slight modification by using the analysis and data, you can gain high goals you have ever dreamed of. From my personal experience, the person who knows his data is surely the winner in this game.
This was a Site kit by Google for the WordPress website. So folks, what are you waiting for?! Add this magic wand with your website, make some changes, a little touch-up here and there, and Voila! You are good to go! Thanks for being with me all this time. GO SAVE THE TREES!