Microsoft has confirmed that Windows 10 devices might crash with a Blue Screen of Death (BSOD) when printing under certain conditions after applying the March cumulative updates.
After installing the updates released during this month's Patch Tuesday, "you might receive an APC_INDEX_MISMATCH error with a blue screen when attempting to print to certain printers in some apps," as Microsoft explains on the Windows 10 health dashboard.
Affected platforms include both client and server Windows versions:
Client: Windows 10, version 20H2; Windows 10, version 2004; Windows 10, version 1909; Windows 10, version 1809; Windows 10 Enterprise LTSC 2019; Windows 10, version 1803
Server: Windows Server, version 20H2; Windows Server, version 2004; Windows Server, version 1909; Windows Server, version 1809; Windows Server 2019; Windows Server, version 1803
The cumulative updates causing Windows 10 blue screens when printing are:
As BleepingComputer reported Wednesday, we have seen a stream of user reports around printing causing Windows 10 to crash with "APC_INDEX_MISMATCH for win32kfull.sys" BSOD errors since the cumulative updates were released as part of the March 2021 Patch Tuesday.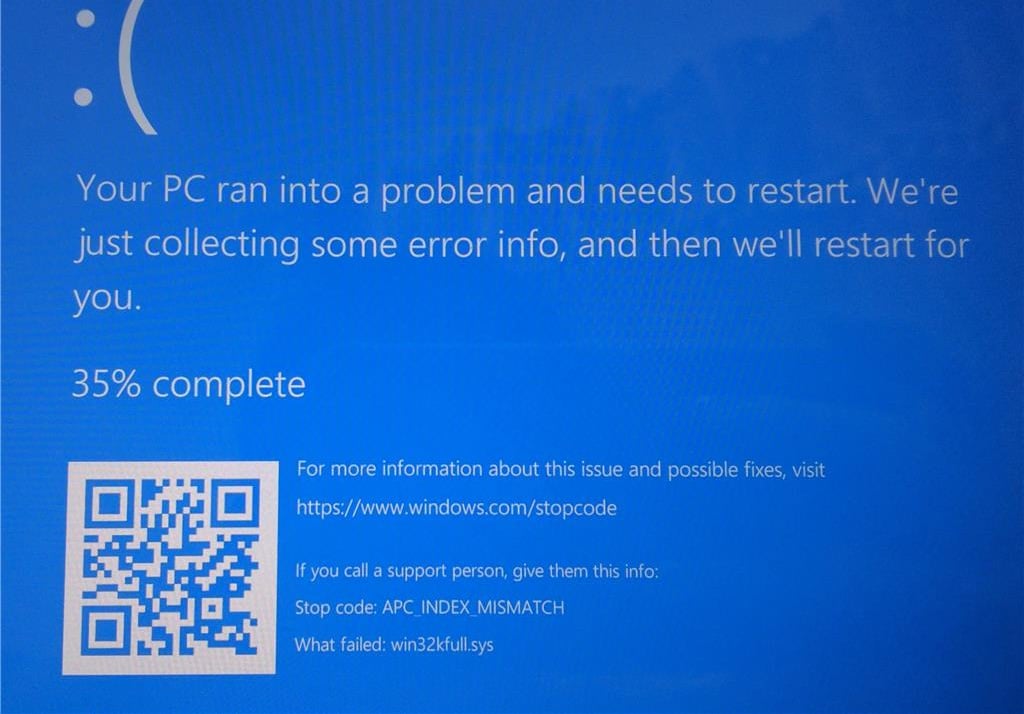 While Microsoft didn't provide additional details, the blue screen issues are most likely related to the CVE-2021-1640 and CVE-2021-26878 security updates that fixed two Windows Print Spooler elevation of privilege vulnerabilities.
Some of the printer brands known to be impacted by this known issue include Kyocera, Ricoh, and Dymo.
Microsoft is currently investigating the newly acknowledged issue and will provide an update after more information is available.
How to fix the BSOD crashes when printing
Even though Microsoft did not provide a workaround for Windows 10 devices affected by this issue, you can temporarily restore printing functionality by uninstalling the problematic cumulative update.
You can uninstall the buggy updates by closing all applications, opening a Command Prompt, and entering the following command (replace the KB ID to match the cumulative update you want to remove):
wusa /uninstall /kb:5000802
We also have this detailed tutorial for more help uninstalling Windows updates using the Control Panel or the Advanced Options feature.
A similar issue affected Windows 10 devices during the June 2020 Patch Tuesday updates when a bug prevented users from printing.
To resolve the printing issues, Microsoft released out-of-band updates for all impacted Windows users.
Update: Included info on all cumulative updates causing BSOD issues.